Hotels and apartments in Val Ridanna
Search and book your accomodation
Search and book your hotel in Val Ridanna.
Alp-Hof
from 65 €
Rooms to rent in Racines | Ratschings
Appartment 2-4 Personen
for 2 - 4 person/s
| 45 m²
65,00 €

for occupation with 2 persons/night
Appartment 4 Personen
for 1 - 4 person/s
| 50 m²
85,00 €

for occupation with 4 persons/night
Appartment für Personen
for 2 - 3 person/s
| 40 m²
65,00 €

for occupation with 3 persons/night
Huberhof
from 60 €
Farm holidays in Racines | Ratschings
Aparment Sunny
for 1 - 3 person/s
| 38 m²
75,00 €

for occupation with 2 persons/night
- Many sports and leisure opportunities in the surrounding area
- Comfortable apartment with very good amenities
- Farm with many animals and games for the children
- Guest card included in the price
- Owners Evelyn and Hubert are friendly and helpful
Mareit is an ideal starting point for countless sports and leisure activities. In winter, the ski resort of Ratschings invites you to hike down the slopes surrounded by spectacular mountain scenery on perfectly groomed slopes. In summer, the Ratschings- and the Ridnauntal offer hikes in untouched nature! Both families with children, as well as ambitious mountaineers get their money's worth!
In addition to the skiing and hiking opportunities, there are plenty of other sports activities: from paragliding to horseback riding, from playing golf to rafting on the Eisack! Athletes get their money's worth.
For those who prefer a quieter pace, you can enjoy beautiful walks and lots of culture, such as the mining museum in Ridnaun and the hunting and fishing museum directly in our village, housed in the beautiful Wolfsthurn Castle, just to name a few.
Because it is important to us that you as a guest feel comfortable with us in our house in Mareit, we have done everything to make our apartments comfortable and bright. The apartment "Sunny" is located on the upper floor, from where you can enjoy a magnificent view of both the romantic village Mareit, as well as the beautiful Ridnauntal with the Stubeier Alps. The south-east, 38m² apartment "Sunny" has a bedroom with double bed and a cross sleeper, which can accommodate 1-2 people. In the kitchen is also a cross sleeper, which can be used as a sleeping possibility. The apartment has Wi-Fi, which you can use for free.
The kitchen is equipped with everything you love at home and would not want to miss on vacation: dishwasher, oven, ceramic hob, extractor hood, fridge freezer, coffee and espresso machine, microwave, kettle and a variety of kitchen appliances and of course enough crockery, cutlery and glasses.
In the kitchen and in the bedroom there is a TV with satellite programs. Also in the bathroom there should be nothing missing: toilet, sink with shelf and mirror, shower and bidet. The highlight of the apartment "Sunny" is the southeast facing 9 m² large terrace, which invites you to have breakfast outside and is a great place to enjoy the tranquility of nature.
Our farm is a place where both young and old feel comfortable. The animals are friendly and love to be petted. On our farm we have a dog, horses, cats, rabbits, quail, sheep and chickens. Romping is allowed on the playground. The trampoline, a football goal, swings, a sandpit, a slide and a ping-pong table are fun for the kids, while the adults on the sun loungers can enjoy the sun. If then the barbecue is heated and it smells of delicious grilled, luck is nothing in the way.
The activeCard is our exclusive guest card. With the map you can experience the diversity of the region and thus choose your personal preferences from a wealth of possibilities. Public transport, museums and the three cable cars of the Wipptal can be used free of charge. Various cultural, sports and spa services are either reduced or free of charge. Some examples are: swimming in Balneum, the visit to the Sterzing Dairy, biking Rent and Go, tandem paragliding with Jochropp'n Ridnaun or rafting with Tiger Rafting Vipiteno.
For Evelyn and Hubert, it is a matter of the heart that guests feel at ease and can recover well on these special days of the year. The exchange with the guests gives them pleasure and they are happy to give tips and recommendations, be it on suitable hiking tours, as well as good restaurants. Guests are also welcome to participate actively in the farming life and even try themselves to work in the hay or to guide an excavator.
Equipment: Single bed, Double bed, Extra bed, Cot, Sofa bed, Balcony, Terrace, Garden, Bed linen provided, Safe, Eat-in kitchen, Coffee machine, Dishwasher, Electric cooker, Cutlery provided, Shower/Bath tub, Bidet, Hair dryer, Towels, TV, Satellite/Cable, WLAN, Internet access, Cleaning upon request, Season rental possible, Main building, South view
Apartment Sultan
for 1 - 4 person/s
| 40 m²
60,00 €

for occupation with 2 persons/night
The 40m² big apartment "Sultan" is named after our first mare. It has one sleeping room with a double bed and two single beds. In addition, it disposes of a sleep couch for two persons in the kitchen-living room. Additionally, the apartment has a balcony to the south. One "extra": from the sleeping room you have a direct view to the playground and the horses. Moreover, you can have free access to our Wi-Fi. The kitchen has all the necessary equipment that you love at home and do not want to miss on your holiday: dishwasher, oven, ceramic cooking area, extractor hood, fridge with freezer, coffee machine, microwave oven, water boiler and other utensils as well as sufficient amounts of plates, cutlery and glasses.
In the kitchen-living room, there is a lot of space to relax and be together with the family because of the big table and the big comfortable sofa. In the bathroom, you will find all you need: toilet, sink with mirror, shower, bidet, a window and a hairdryer as well as various options to place your personal belongings. We put at your disposition small and big towels that we change after request. The apartment has a balcony to the south with a fantastic panoramic view over Mareit and the Ridnaun valley.
Equipment: Double bed, Extra bed, Cot, Double sofa bed, Balcony, Garden, Bed linen provided, Safe, Eat-in kitchen, Coffee machine, Dishwasher, Electric cooker, Cutlery provided, Shower/Bath tub, Bidet, Hair dryer, Towels, TV, Satellite/Cable, WLAN, Internet access, Cleaning upon request, Season rental possible, Main building, South view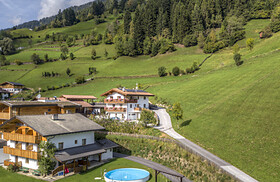 Doppelzimmer
for 1 - 3 person/s
| 17 m²
32,00 €

per person/night
Dreibettzimmer
for 2 - 4 person/s
| 21 m²
32,00 €

per person/night
Joglerhof
from 24 €
Farm holidays in Racines | Ratschings
Appartment
for 1 - 4 person/s
| 45 m²
48,00 €

for occupation with 2 persons/night
Joggelehof
from 52 €
Farm holidays in Racines | Ratschings
Appartment
for 2 - 5 person/s
| 40 m²
52,00 €

for occupation with 4 persons/night
Appartment
Equipment: Double bed, Extra bed, Cot, Double sofa bed, Balcony, Garden, Bed linen provided, Separate kitchen, Coffee machine, Gas cooker, Electric cooker, Cutlery provided, Shower/Bath tub, Separate WC, Bidet, Towels, TV, Satellite/Cable, Main building, South view
Appartment
for 2 - 6 person/s
| 60 m²
85,00 €

for occupation with 5 persons/night
Appartment
Equipment: Double bed, Extra bed, Cot, Double sofa bed, Balcony, Garden, Bed linen provided, Separate kitchen, Coffee machine, Gas cooker, Electric cooker, Cutlery provided, Shower/Bath tub, Separate WC, Bidet, Towels, Washing machine in the apartment, TV, Satellite/Cable, Main building, South view